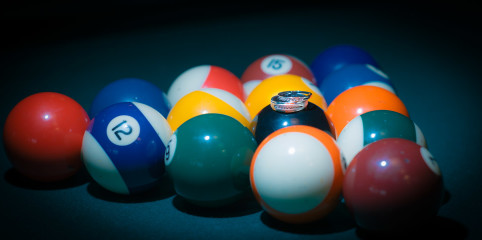 Every wedding is different, that goes without question, but some are occasionally so different that I can't help but chuckle a bit as I look at the photos.
The free spirit, "don't give a darn about what anyone else thinks" nature of April, Bruce and their friends is something to admire.  I have a good time at every wedding I photograph. Honestly, rarely does it feel like work for me — everyone is happy, looking their best and willing to be photographed. Then there are times where the scale goes from "good time" to "omg that was too damn funny" of a time.
This was one of those times.
Where do you put a dress to avoid having a heartbreaking accident? In the basement of course!
The ceremony.
Time to let loose. Having a bus for all your bridal party to chill out on it an excellent solution to getting around on the wedding day.
April and Bruce met in a pool hall — which is cool in a "1960′s New York mob movie" kind of way if you ask me — so we made sure to get some fun photos of them at a pool hall. It was a very neat way to tie it altogether.

Then the beautiful side of the bridal party got in on the act.
So the girls grabbed Bruce for pics but April was a touch Jealous!
Meanwhile over at the bar…

And what good is any bus if you can't get a little make out session in the back of it.
And then the boys got a little carried away.
Something serious and something fun of the full group.
After that it was off to Bannerman Park for a couple classics of the bride and groom.

Then it was off to Quidi Vidi where the Bride & Groom were treated to some music thanks to the locals across the harbor. Thanks guys!
Things got a little too "NSFW" after this photo was taken. Good times BUTT not for the internet ;-)
Havin' a smooch at Quidi Vidi.
But we all settled down just enough to shoot this photo with everyone being sensible for just long enough.
Pee stop! Some were less able to hold it quite long enough to make it inside it seemed.
April insisted I cover every aspect of her day! :-) What's a little bathroom break among friends.
;-) The traditional "Presidents Choice Bride" photo! We had a lot of fun, maybe a little too much given the location but oh well!
After all of that it was time for the reception and what an entrance! On the right we have April showing Bruce who's boss.
After all the days horsing around it was a little difficult for some to keep their pants on. All in good fun though.
Left: Out back we had a last minute rehearsal for the bride and groom's first dance and on the right, is that very first dance! They started slow and then worked into a well knit routine.
And the crazy shenanigans continue on the dance floor!
First up, the flower toss. The agility on display right here would make any athlete proud.
Yeah. He caught it and did the deed with his teeth. And that's it. This wedding is right up there with some of my more favored. April, Bruce and their entire bridal party were very fun to hang with through the entire day. It was quite a laugh and a day that won't soon be forgotten.