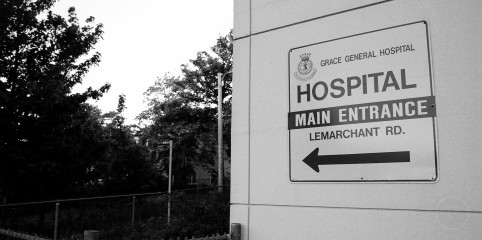 A number of years ago I was lucky enough to be granted access to the Grace General Hospital & Nurse's Residence formerly on Lemarchant Road just before it was completely disassembled from the top down.
It was interesting to say the least as the place was fairly spooky, eerily quiet and full of nooks-n-crannies. Sadly it was 2007 and I wasn't shooting the style that I do these days and I was using a lesser quality camera and lenses than what I currently operate with. That's not to say I didn't capture some interesting pictures, I'd just wish I could do it all over again, as I'd of captured it with more of an eye towards documenting the hospital and it's finer details as opposed to creating creepy pictures of urban exploration.
Also, by the time I was given access one half of the hospital itself was gone (the oldest half, the side with the morgue and some other interesting things). The main section of the hospital and the nurses residence, labs and school were still standing though and that's what I had access to.
Info: The first Grace Hospital was constructed in 1922 and was known as the Grace Maternity Hospital. Major extensions were added in 1955 and 1965 and a nurses' residence was added in 1964.
–
If you like this post you might also like my long street photography series documenting downtown St. John's titled "Environs and Denizens", or my article on the dangers of Urban Exploration, or perhaps my coverage of Hurricane Igor, the serious weather event that stuck Newfoundland in 2010.
–
To read more about the history of the Grace Hospital and a lot of other urban exploration in Newfoundland, check out Hidden Newfoundland and their piece on Grace Hospital